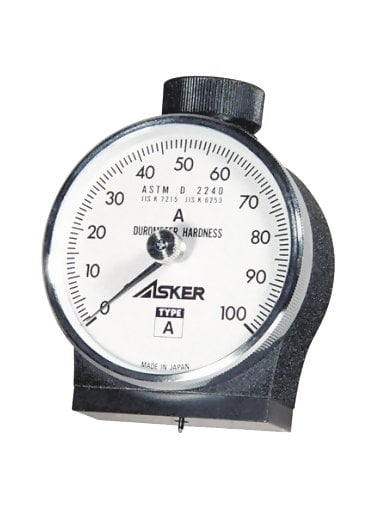 ---
X Series measures hardness scales:
Shore A Normal rubber
Shore D Hard rubber and plastics
Asker C Soft rubber
AskerE Soft rubber
Asker F Urethane foam, sponge
---
Model X-A Shore A Hardness - Normal rubber
Model X-D Shore D Hardness - Hard rubber and plastics
Model X-C Asker C Hardness - Soft rubber and sponge
Model X-E AskerE Hardness - Soft and cellular rubber
Model X-F Asker F Hardness - Urethane foam, sponge and polystyrene foam
Asker X Series High Performance Durometer ' Hardness Testers feature portable design, ease of operation, non-destructive measurement and optional peak indicators. Supplied with 3 point NIST traceable calibration cert.
The Asker High Performance series has an accuracy of .75 point and is available in Type F for soft materials like sponge rubber and urethane foam.
Asker models are available in ASTM D 2240 durometer Types: Shore A Hardness, Shore D Hardness and Asker C Hardness durometer scales.
Conforms to: JIS K6253, JIS K7215, ASTM D2240, ISO 7619, ISO 868, DIN 53505
As the hardness tester is pressed against the sample, the material resistance force and indentor spring load balance. The depth of the indentor is measured, which provides a measure of the material's hardness. Values are based upon a 100 point scale (accuracy .75 point). However, as time elapses the indicator will "creep" back so that a reading taken a few seconds after the tester makes contact with the sample will be less than the peak reading. The optional peak indicator helps to more closely monitor the difference between peak and "creep" in hardness tests.