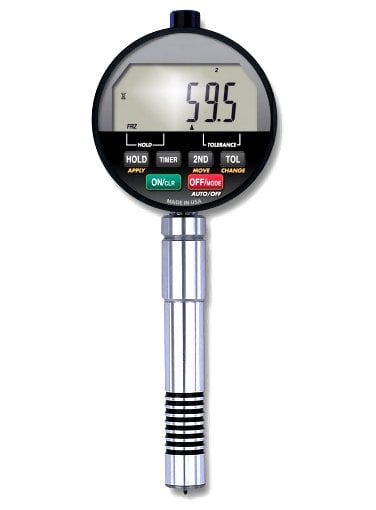 ---
Adjustable Measurement Timer with Onscreen Countdown
---
Available Scales: A, D
---
Store and View up to 200 Measurements
---
Includes NIST Calibration Certificate
---
Conforms to ASTM D-2240
---
Available Scales: A, D, B, C, DO, E, M, O, OO, OOO, ASKER C
The Rex RX-DD-5 digital durometer is the latest innovation for performing timed hardness testing. The Rex RX-DD-5 is equipped with an adjustable timer and onscreen countdown that can be set to delay from 0-30 seconds. When enabled, the timer function will be automatically activated when the presser foot meets the test specimen. Up to 200 readings can be stored and viewed inside the durometer or downloaded through the USB port.
Rex RX-DD-5 Digital Durometer with Adjustable Timer
115V AC Adapter
Calibration certificate in a foam-fitted metal
Instruction Manual
Carrying case
Conforms to ASTM D-2240 (ISO, DIN and JIS Conformance Also Available)
Adjustable Measurement Timer with Onscreen Countdown
Store and View up to 200 Measurements
High and low buttons for setting tolerance limits
Holds reading until reset
Dial rotates up to 270
Extra-Large Number Display
Download and Collect Data Using USB Smart Cable (Sold Separately)
Custom Made Carrying Case
Includes NIST Calibration Certificate
One Year Warranty
Measruing Range
0 - 100 Units
Resolution
0.1 Units
Accuracy*
1 durometer unit (A,B,C,D,E,O,DO) | 2 durometer units (OO,OOO) | 4 durometer units (M)
Tolerance
0.5 at "100" and -0 +1 at "0"
Power Supply
(2) 3V CR-2450 Batteries
115V AC Adapter Included. 230V AC Adapter Optional
Mounting Thread
5/16-40
Dimensions
2.25" x 6.125"
Weight
7.15 oz (202.69 grams)
Warranty
1 year
RS232 Output
9600 baud, no parity, 8 data bits, 1 stop bit (requires external power)
* Note: per ASTM D 2240-05, Sect 9.3: It is accepted that durometer readings below 20 or above 90 are not considered reliable. It is suggested that readings in these ranges be omitted.

Portable Battery-Powered Printer for Hardcopy Documentation

Need a hard copy printout of your measurement results
Our P-190 Printer with the G03-0086 Cable will allow you to print each reading as it's shown on the display. The user simply depresses the thumb switch each time they want a value transferred to the printer. Simple yet effective!
The battery-powered P-190 Printer uses standard rolls of adding machine paper, unlike thermal printers the printout will not fade over time. It is supplied with a battery charger for operation on all power worldwide.
Order the following items as shown in the accessories section of the BUY NOW section at the bottom of this page.
P-190 Printer
G03-0086 Data Transfer Cable and Thumb Switch

Related Products

| | |
| --- | --- |
| Durometer Operating Stand for use with type A, B, C, D, DO, E, O, OO, and OOO | |
| | |
| --- | --- |
| Type A, B, E and O scale durometers | |
Rex DD-4 Precision Digital Shore Durometer RX-DD

Available Scales: A, AO, B, C, D, DO, E, M, O, OO, OOO (Asker, ISO, DIN & JIS Scales also available, inquire)
| | |
| --- | --- |
| NIST Traceable Certificates of Conformance | |