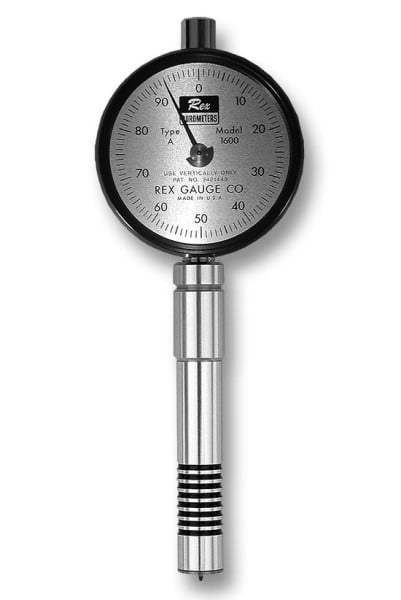 ---
Available Scales: A, AO, B, CF, D, E, DO, M, O, OO, OOO, OOO-S (Asker, ISO, DIN & JIS Scales also available, inquire)
---
Conforms to ASTM D-2240
---
Includes NIST Calibration Certificate
---
Available Scales: A, AO, B, CF, D, E, DO, M, O, OO, OOO, OOO-S
The Rex 1600 Dial Shore Durometer RX-1600 features a full-sized dial face for readability to within 1/2 point. The RX-1600 offers the maximum accuracy available in a dial model gauge at a minimum cost.
Type M Durometers require test stand OS-3 per ASTM D2240.
Rex 1600 Dial Shore Durometer RX-1600
Instruction manual
Foam-fitted
Includes NIST Calibration Certificate
Full 360 degree sweep
One year warranty
Conforms to ASTM D-2240
Large dial
Measuring Range
0 - 100 units
Accuracy*
1 durometer unit (A,B,C,D,E,O,DO)
2 durometer units (OO,OOO)
4 durometer units (M)
Dimensions
2.25" x 6.125"H
Weight
6 oz.
* Note

per ASTM D 2240-05, Sect 9.3: It is accepted that durometer readings below 20 or above 90 are not considered reliable. It is suggested that readings in these ranges be omitted.
Includes NIST-Traceable Calibration Certificate
Conforms to ASTM D-2240, DIN 53505, ISO 868, JIS K 7215 and ISO 7619. Asker C model conforms to JIS K-7312.
18 mm diameter footer provides stable basis for testing and conforms to all International Standards
DD-100
Digital Durometer Tester

High and low buttons for setting tolerance limits
Holds Peak reading until reset
0.1 Unit Resolution
Conforms to ASTM D-2240, DIN 53505, ISO 868, JIS K 7215 & ISO 7619. Asker C model conforms to JIS K-7312
Includes NIST-Traceable Calibration Certificate
Conforms to ASTM D-2240